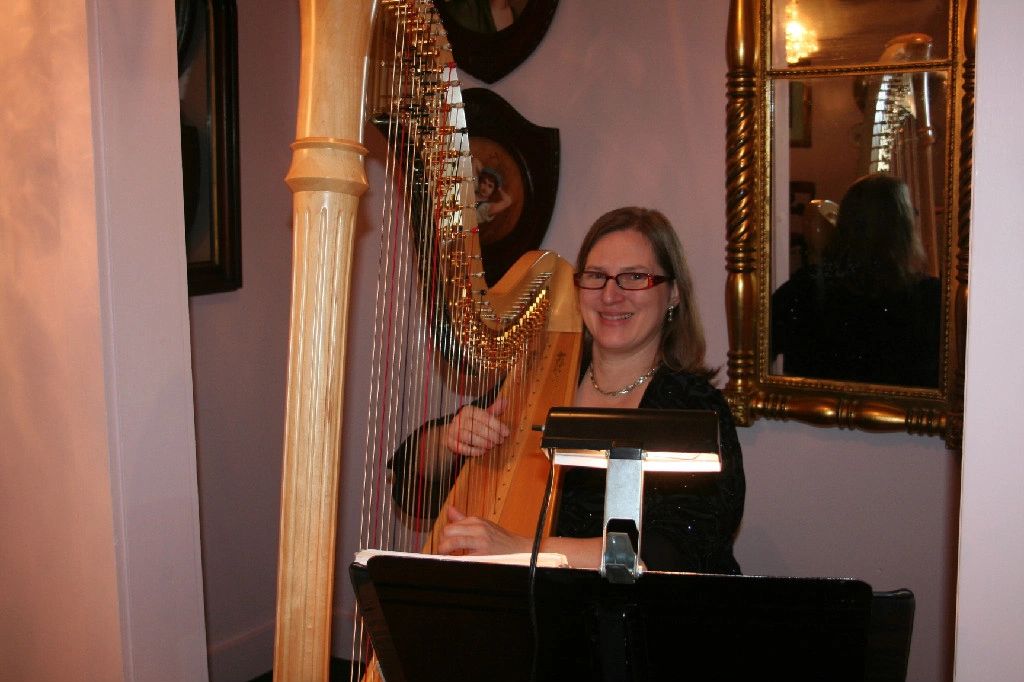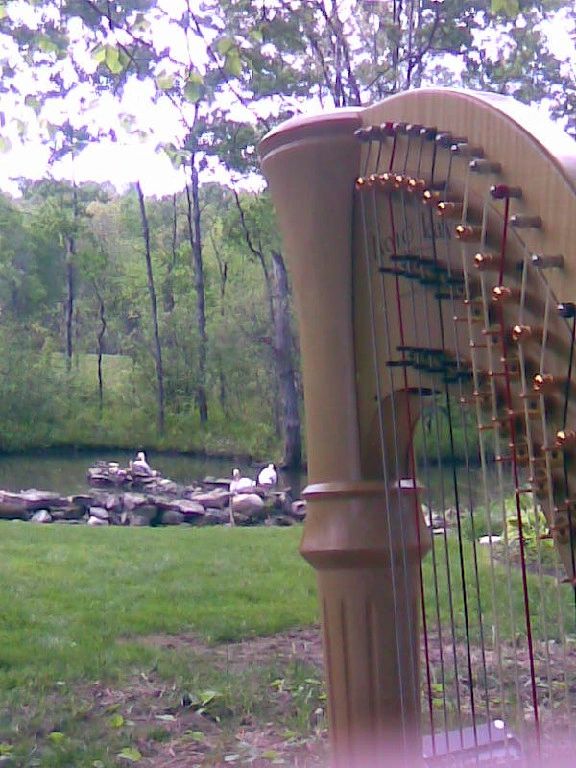 Photos L to R:
A Victorian Valentine's Day Tea at Limoges Antiques Shop, Rutland, VT (photo by Debby DuBay, owner of Limoges)
A wedding at The Mansion Inn, Rock City Falls, NY (photo by Karlinda Caldicott)
A Renaissance-themed wedding at River Stone Manor, Glenville, NY (photo by Mark Anderson, Focus on Fun Photography)


Why Hire a Harpist for your Special Event?

Harp music adds beauty, elegance and style to any event that no other instrument or ensemble can equal. Having a harpist at your wedding ceremony, cocktail hour or (smaller) reception is incredibly romantic and lovely. The instrument itself visually creates a unique ambience, and when the music flows from it the experience is amazing.

In addition to weddings, live harp music works beautifully as background music at many other types of events, such as dinner parties, holiday parties, corporate events, wedding/baby showers, anniversaries, christenings, romantic evenings, and has a very gentle soothing effect at funerals and memorial services. Music from the harp will create the perfect atmosphere, and your guests will appreciate being able to talk without shouting over the entertainment. Event planners will love the harp's versatility and ability to play everything from Broadway favorites to classical music. Everyone at your next event will be able to agree on one thing - they LOVED the beautiful harp music!
What I Provide for a Wedding Ceremony
Phone consultation to choose music and other details *
20-30 minutes of prelude music as guests are arriving
Special music for the seating of the grandparents & parents (if desired)
Processional Music for the Bridal Party & the Bride **
Musical Interlude or Special Song During Ceremony (if desired)
Recessional Music for Entire Bridal Party at end of Ceremony
5-10 minutes of postlude music while guests depart OR Receiving Line (if desired) ***
* If needed, I can play samples of songs over the phone for you during the consultation.
** Depending on various factors, this could be one piece of music or more.
*** Harp would have to remain in same place for receiving line, so depending on the venue it may not be logistically possible. There may be an additional fee for the receiving line. Please inquire if you are interested.
PLEASE NOTE: There may be additional fees for unexpected variations from what is indicated here. Also, it is not my policy to attend wedding rehearsals, as it is likely that I will be working elsewhere on the day of your wedding rehearsal. If for some reason it becomes absolutely necessary for me to attend your wedding rehearsal, I will have to charge a fee for my time. If I need to bring the harp or long-distance travel is involved, additional fees will also apply.
Availability & Pricing

Please contact me at kdcharp@hotmail.com and provide me with the following information:

- Date & Time of Your Event
- Type of Event
- Name of Venue and Location
- If this is for a wedding, please be specific about whether it's for the ceremony or something additional or different.
- Is this for solo harp, or are you looking for harp with additional instruments, such as flute, violin or cello?

I will get back to you as quickly as I can with a quote.
The Hiring Process
It's pretty simple! If you think you might be interested in hiring me, please feel free to contact me. We can discuss the possibilities, and if you want to make it official, we'll set up a contract and I'll e-mail (PDF format with my scanned-in signature) or mail it to you. When I've received the signed contract and a 50% deposit, then you have officially hired me! The remaining 50% balance payment will be due ten (10) business days ahead of the event. Please note I cannot accept credit cards; only checks, money orders, or company/business checks.
Indoor vs. Outdoor Events
Playing Conditions the Harp: Due to its size and delicate nature, the harp requires certain environmental considerations to keep it safe and prevent damage. In general, about 5 or 6 square feet of space is needed. Also, your event will either be indoors or outdoors, so let's think about each option.
Harp on the Outside: I LOVE playing outdoor events on the harp! With a little thought, care, and pre-planning, having the harp at an outdoor event can be truly fabulous. Here are the main factors involved: (1) The harp will need to be on dry, level ground. If the ground is grass or gravel or something like that, I have some small rugs that can be placed under the harp to protect it from the ground itself. (2) The harp will need to be completely in the shade and protected from any potential precipitation. (3) The location for the harp needs to be accessible enough by vehicle that the harp doesn't have to be carried or carted a very long way (this can be discussed). (4) If there is some protection from heavy winds it'll also be helpful. (5) Extreme cold or heat will be difficult on the harp, and when the temperature gets below approximately 62oF it will make it virtually impossible for me to play as my hands will stiffen up and I won't be able to move my fingers well. Even if I've arrived and set up already, if it's too cold (or hot) I may have to decline to perform in such extreme conditions, and there will be no refunds under these circumstances, so please give this careful thought in your planning process.
Harp on the Inside: There are a few main considerations about playing inside: (1) Stairs – If there are a lot of stairs leading to the spot where you want the harp to be, I'll need help carrying it up and down. Organ/choir lofts are particularly difficult, and if they can be avoided it'd be better; if they can't be avoided, I'll need two strong men to carefully carry the harp for me. (2) Heating / air-conditioning: Being too close to either of these can be very dangerous for the instrument, so it's best to avoid it if we can. (3) Power sources: Depending on the venue, I may need to be near an outlet for my stand light or other equipment, so it's advisable to make sure the harp is in a spot where the cords won't be in the way of where people will be walking.
Sound (Being Able to Hear the Harp) & Lighting
I am prepared to play with or without amplification, depending on the situation. I have my own pickup and amp, and can play pretty much anywhere with battery power or plugged into a socket. I'm also willing to explore the possibility of using other amplification systems already in place at a venue or provided by someone else. I do not charge extra to use my amplification system – it's just part of what I do.

Please also let me know if there will be low lighting so that I can be prepared with my stand light. If I can't see my music or strings (or you, if it's a wedding!), things will not go as smoothly as we would both like.

Other Questions?
I am happy to answer your questions! Please feel free to contact me at kdcharp@hotmail.com.